There's no doubt that electric toothbrushes made brushing teeth less of a chore, yet not fun enough to my taste.
In the early 1990s, with the introduction of high-speed sonic technology which is essentially an electric toothbrush on steroids, producing tens of thousands of brush strokes per minute, this nice mouth massage became the most efficient way to remove plaque, bacteria, and stains from food and drink, as well as stimulating the gums.
The top brands in the sonic electric toothbrush market, Philips Sonicare and Oral-B from Procter & Gamble (P&G), have been selling smart toothbrushes for some time, the DiamondClean Smart (from $230) and the Genius (from $200), respectively, both with their accompanying smartphone app (for iOS and Android).
This year, we identified 3 startups that are threatening Philips and P&G dominance of the smart sonic toothbrushes market:
1. Kolibree launched at CES 2017 Ara ($129), the first smart sonic toothbrush that integrates artificial intelligence right inside the device
2. Grush ($49), the gaming toothbrush for kids, that turns brushing teeth into a video game
3. Oclean ($129), which was designed and brought to market in just 12 months, is the fastest smart sonic toothbrush on the market with 50,000 strokes per minute.
During a recent visit to Shenzhen, the Silicon Valley of China, I interviewed (in the video below) the co-founder of Oclean, Laurent Le Pen, to find out more about his 25-people startup, backed by Huami, China's largest wearable manufacturer, itself owned by Chinese smartphone vendor Xiaomi.
The startup already sold 30,000 Oclean One in China and has so far raised $2M in a seed round and an additional $113K on crowdfunding site IndieGoGo to start selling its toothbrush in the U.S.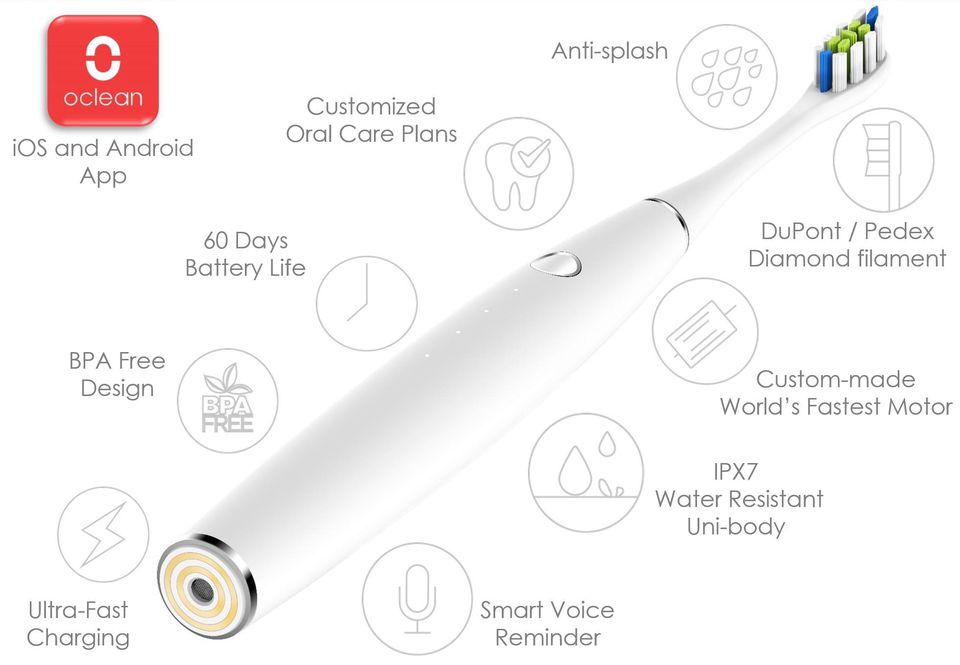 Here's what we liked about the Oclean One smart toothbrush:
1. Built-in gyroscope which can detect motion, angle, and pressure that the intelligent algorithm use to correct brushing habits 3 modes (cleaning, whitening, and massage) and four intensity settings, for a total of 12 different combinations, plus time variance
2. An amazing 60-days battery life
3. Ultra-fast wireless charging
4. High-quality brushes
5. A sleek and ergonomic design
6. An audio speaker to replay memos that you've recorded and sync using the app
7. The travel case
8. A reasonable price
Jean Baptiste "JB" Su is Vice-President and Principal Analyst at Atherton Research, a global technology consulting and intelligence firm advising clients plan, build and deliver successful go-to-market strategies. You can follow him on LinkedIn (https://goo.gl/z5zGlx) or Twi…
MORE
Author: Jean Baptiste is a Vice-President and Principal Analyst at Atherton Research, a global technology intelligence firm advising clients deliver successful go-to-market strategies.
via: https://www.forbes.com/sites/jeanbaptiste/2017/10/09/gadget-talk-oclean-one-is-the-fastest-smart-sonic-electric-toothbrush/